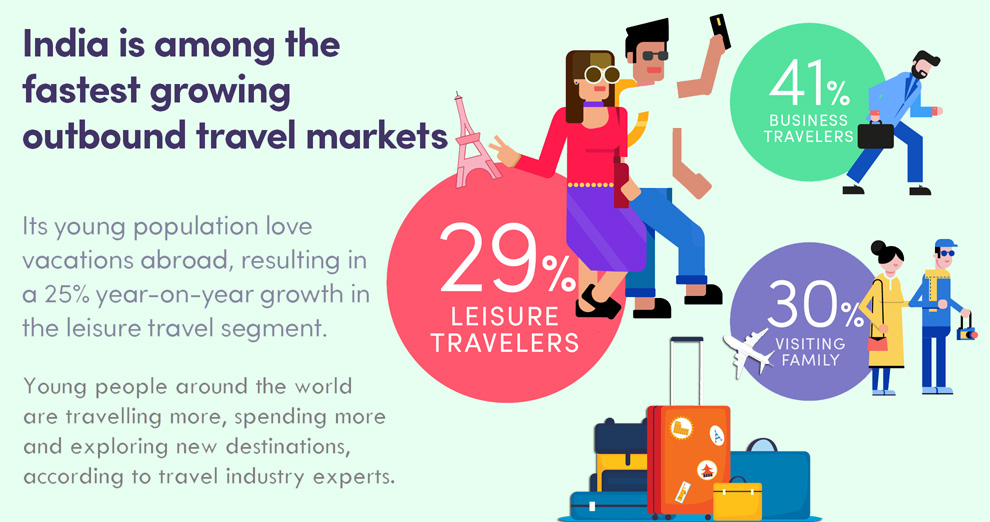 Youth travel was long seen as a small part of the travel and tourism industry, characterized by cheap prices and low spending. However, the picture has changed in recent years, according to diverse studies. The World Tourism Organization (UNWTO) estimates that youth travel generated US$ 182 billion in international tourism receipts in 2012, and represented more than 20 per cent of the more than one billion international arrivals. The average cost of a trip by a young person amounted to US$ 910. The number of international trips by young people might increase from 200 million trips a year at present to 300 million try 2020, UNWTO has predicted.
Youth travel is a growing segment of the global travel industry, "Young people represent 20 per cent of the total global travel market. The key reasons for this growth are that today's youth - 'Generation Y'- has more money to spend on travel, is travelling more often and to more distant countries than in the past. Traditional backpackers are declining while 'flashpackers' - hi-tech, socially connected young travelers - are becoming a new part of the market.
A large-scale survey of 34,000 young people (aged up to 35) in 137 countries carried out by the association showed changes over the last decade. Fewer than half (45 per cent) of young people now travel on holiday while nearly as many (38 per cent) travel for educational purposes (e.g. language learning, study). There is also a significant number (15 per cent) travelling for work experience purposes while about 5 per cent travel due to volunteer or event projects. The drop in the 'holiday market share' could be due to a rising number of unemployed young people using their 'free time' to travel for work, educational purposes or cultural experiences, according to WYSE. One interesting trend is that a lot more young people now describe themselves as "tourists"- nearly 30 per cent in 2012 compared to about 15 per cent in 2002. In contrast, the number of "backpackers" has fallen to about 15 per cent from more than 30 per cent a decade ago.
"Young people are travelling more to long-haul destinations, Moreover, there is an attractive financial benefit for destinations attracting young visitors. "Older people tend to stay in internationally-owned hotels, so the profits are exported. However, young people stay in locally-owned accommodation, so their money tends to stay in the destination.